CHOOSING THE RIGHT PADDING FOR CARPET
The National Association of Home Builders, states that carpet makes up 61 percent of flooring material in new single-family homes (hardwoods accounted for 11 percent). Carpet is a $14 billion industry fin the U.S. As most of us know, purchasing carpet is an expensive proposition for homeowners.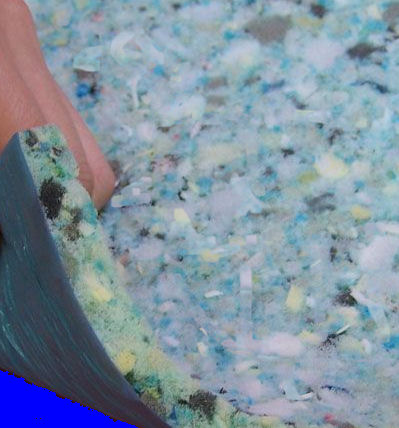 For example, a typical installation costs thousands of dollars. It is then, to the advantage of the homeowner to be armed with the best possible information before making a buying decision.To help you further in accumulating such needed information, I will discuss the following pad choices available to consumers and how these choices relate to the carpet you are buying — as follows.
First: Please note: If you do not follow the manufacturer's padding guidelines, your carpet warranty will be voided. Talk to your carpet dealer to get the needed assistance in picking out the right pad for your new carpet.
Types of Padding
Berber Pad:
Rebond (pictured above)  should be avoided under Berber carpets. Some Berber carpets require special padding. Talk to you carpet dealer , they usually sell a light weight pad as his regular padding for Berber.
Fiber
Used to limit the movement in a piece of carpet. Most of the time these pads are used under area rugs, or commercial carpets, and under some Berber carpets. This pad is manufactured from jute, or hair mixed with jute, or even synthetic fiber, or recycled fiber. If this is your choice of pad stay at least at 7.5 lbs per cubic inch density in synthetic fiber, 12ln density in jute pad. Look for thickness to be between 3/8 and 7/16 inch. Total weight must be 40 ounces per square yard.
Foam Padding
Made from urethane foam and available in different thicknesses and densities. can also be referred to as a "prime foam", Note, regardless of the thickness, this pad is not recommended for heavy traffic of any kind. Since there is a volume of air under the carpet which causes the carpet to move up and down so much that can cause backing to breaks down in time. Foam manufacturers have tried loading the foam with binders to make it heavier, or compressing the cells. Sadly , both of these methods leaves a foam pad that that does not support your carpet properly in the long run.
Frothed Foam
Considered the  ultimate padding on the market. Also can be referred to as a urethane pad and is made 5/16ths and 7/16ths inch thick. Extremely durable and come with excellent warranties and will add extra life to your carpet. This pad has virtually no VOCs (off gassing), and can be used under all carpets.  It also adds a rich feel to the carpet as you walk on it. I have this in mine own home and really love the feel of it.
Rebond:
This type of padding is used most often by the floorcovering industry. Made from  scraps of  high density foam used in furniture making, then  bonded together. Rebond padding comes in various thicknesses and densities .Density is so many pounds per cubic foot. So a 5 lb rebond pad would weigh 5lb per cubic foot.
What is recommended? a pad at least 5lbs and 3/8 inch thickness for light traffic (your living room), and a pad of 6.5 lbs and 3/8 inch for heavy traffic ( ie hallways). These are minimum guidelines. The best would be 7 to 7.5 lb pad for longer wear not exceeding 7/16ths inch. It works better with tack strip and prevents too much up and down movement of the carpet.
Waffle Rubber:
Waffle padding is still being used today but often improperly. The waffle part of the padding gives it a thickness that is mostly air, and as a result, any of this type of padding rated less than 90 ounces is still too soft for today's plastic backed carpets. The rubber used to make this padding is held together with clay type binders that break down with use.