Hardwood Flooring
So many choices of flooring, have you said that? Yes it's true, there is much variety now than ever before. Fashion and quality are readily available.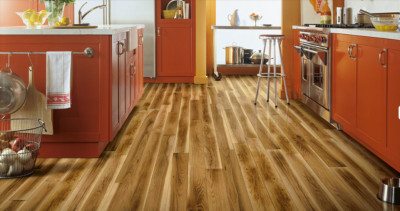 So what floor do I buy?
First do your research find out about the aesthetic factors and practicality of hardwood flooring. Next to consider, where will the flooring be installed? Will it be in high traffic areas? Will it be for example near an entry door wherefore dirt will collect in that area? Will it be in an kitchen area subjected to water spills and cooking? Will it be installed in the Dining room, if so, you will need a floor, resistant to food stain and it should have wear resistance since this may be a busy used room.
How about your house foundation. Is your house above grade or below grade? That is, will the flooring be going on top of wood (such as osb or plywood) or on top of concrete? This is important to ascertain what product line best serves wood or on top of concrete. As you shop for your floor, the samples will usually tell you if this product is for above grade or below grade. Installing the wrong flooring on concrete can spell disaster.
Other Concerns: Will the new floor have continuity with the other flooring in your home? Where does the floor fit in your overall decorating theme?
Will the color of the walls match your floor selection?
Light surfaces reflect a great deal of light while darker surfaces reflect little light, requiring more light sources.
A room painted in a light color scheme feels larger than darker rooms. Also, dark-colored flooring can give the room a more intimate feel. Remember too, that a light floor shows more soil than a darker floor.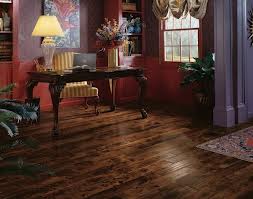 Does anyone in your home have allergies? Hardwood floor is a good choice because it will harbor fewer dust mites.
Hardwood floors also can be enhanced by beautiful rug, cut to a square shape or round or other shapes. This would make it very easy to clean the rug too. Again it make for better conditions to keep those allergies to a minimum or none at all.
Other questions to consider: What will be the cost of your the new floor? How long will the floor last? For example, if you are trying to decide between hardwood and laminate, flooring, remember that hardwood can be refinished but laminate cannot.
Maintenance factors: How easy will it be to keep your floor clean and what will it take in time and materials to keep your floor sparkling? This could save you money : If you still have the original hardwood flooring in your house, can the old floor be refinished?
Some existing hardwood floors can be refinished. If you like the look of wood, it can be sanded down and re stained to another color if you wish, then finished with aprox. 3 coats of clear. For a existing Hardwood floor with scratches, and finish is going, it might just be repaired saving you money.
There are many differences between solid and engineered hardwood flooring, and pros and cons to make it more confusing. However this article will help clear up the differences to help you make a good buying choice. Always for more info or questions you can call our store at 559-683-5567.
Lets begin;
Solid Hardwood Flooring Installation
It must be nailed or stapled onto a wood subfloor. For a concrete slab, you can not nail into the concrete. Which means you need a plywood subfloor installed onto the concrete requiring an added cost. If you are facing this issue, the other option is to  look into buying an laminate or engineered floor which is suited well over concrete.
Solid Hardwood Floor Maintenance
This floor can be sanded and refinisher many times can be an advantage. If you drop sometihg on the floor for example, and it creates a dent or gash, you solid wood floor can be repaired. Best to hire a professional to handle this type of repair.
If you in later life get a whim to change the floors stain colr, you can by sanding the whole floor down, then stain and finish. However it can be time consuming, by moving out the furniture and then sanding the floor to bare wood, creating some dust. Next followed my staining the entire floor and apply a finish while allowing ample drying time inbetween usually 3 coats. So were talking a few days to accomplish the project properly. Not to mention the cost too. Solid wood is sensitive to moisture. temperature changes can cause expansion/contraction and possibly separation of the boards in extreme cases. So the questioin here to consider is where do you live, in a higher elevation may cause problems for this type of wood. Engineered flooring is less sensitive to moisture.
what is Engineered Hardwood Flooring
Engineered hardwood flooring is made up of layers of wood – a good stron brand will have 5- 7 layers – with the top and bottom layers being the real wood species you would select such as maple,oak, Cherry, etc.). Even though it is made up of layered properties, engineered hardwood flooring is still considered hardwood, and in no way a laminate floor. Cost of Engineered vs Solid makes Engineered less expensive.
Installation
Engineered flooring may be stapled or nailed much like solid flooring. Another advantage is it can be glued onto a concrete slab or floated. (Floating refers to the process of gluing the grooves and tongue together, thus "floating" the floor over a special pad of different thicknesses causing it to float as it were on top of the floor.) The floated foor is also not attached to the surrounding walls of the room.
Engineered Hardwood Flooring Maintenance
The floor depending on the thinckness of the veneer (top wear layer that is stained and finished) can be sanded and refinished about 2-3 times only.
Engineered floors hold up well in temperature and humidity changes due to the way it is constructed, especially too when the floor is floated making it one unit of flooring thus resisting cupping and splitting.
Well definitely there are Pros and Cons, if you have any questions just ask our flooring specialists at American Floors & Interiors.
Wood vs. Carpet
Carpeting is more economical, right? Actually, carpeting lasts between seven and ten years under normal residential use. Hardwood floors can last a lifetime and are always in style.
Here's a 30-year comparison test you can use when trying to decide between carpeting or wood flooring. Say you installed a hardwood floor. It would typically last for 30 years. During that same period you probably would have to install new carpeting four or five times. At that rate, the hardwood flooring actually costs less than the cumulative cost of all the carpeting you would have to install.
Another thing you need to consider is the cleanliness of your home. A large American company that recycles old carpeting has stated that most used carpeting it receives for processing contains at least 35% of its weight in household dirt. The families who owned this old carpeting were actually walking, or crawling on dirt. Hardwood flooring is simply cleaner. If it is dirty, the dirt is plainly visible to the eye, not hidden within carpet fibers. Hardwood flooring my be your best buy and most solid investment.