Vinyl Flooring
Vinyl flooring is an inexpensive but highly durable flooring, and a good option in high traffic areas.  Vinyl also is a quiet walking surface while providing  cushioning. You will find vinyl to be cost effective and you will get your money's worth since it will last for many years,
The places in a home where vinyl usually is,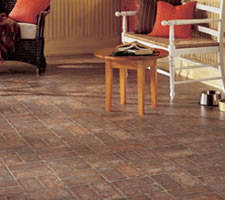 are the bathroom or kitchen.  Vinyl makes sense when it translates into  easy to keep clean.
Vinyl  styles and colors are ever progressing while looking very real.  You will find some beautiful patterns and colors closely resembling  natural products such as wood, tile, laminate, stone, and more. Take note too of the patterns that emulate wood or tile, many have a texture feel with some patterns protruding, giving it a slight texture feel adding to the realism.  Find a look that  matches your decor.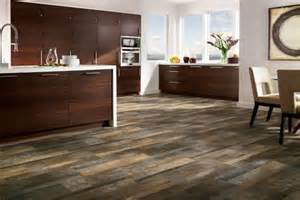 Also it  can also be used in a business setting such as a hair salon, restaurant or high traffic areas.  Cleaning is easy. Another advantage if using vinyl tiles, if one wears out, it can be easily replace. Check out  our showroom for samples.
Topic of interest; How Vinyl is made
Rotogravure Construction:
This is a common method for producing residential vinyl floor making for the different designs and patterns. The process uses a print cylinder that spins around while a core layer or gel coat passes under the cylinder printing, creating those patterns or prints with ink dyes.  A clear wear layer then is put onto the surface giving it retention and durability.
The created wear-layer is important to take note of, because vinyls can come in various thicknesses measured usually in mils.  The more expensive vinyl floors have thicker wear layers thus lasting longer.  Ask your salesperson about the different qualities of vinyl that are offered.
Performance:
Stays looking like-new
Easy to clean and easy on spills
Doesn't show scratches
Resists staining from normal household products